---
Curriculum Vitae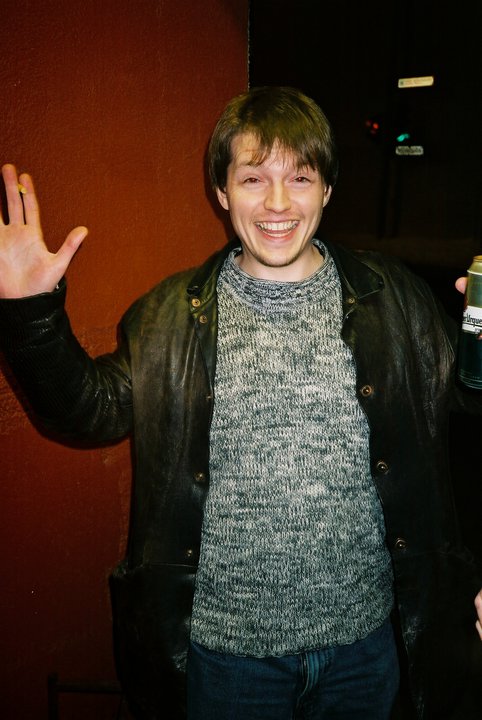 Hello, random internet guest. My name is Sveinbjörn Thordarson.
I am Icelandic by birth and citizenship, and I currently live in downtown Reykjavik, Iceland. My education was largely in philosophy, languages and history, but I am also a computer technology specialist.
I currently work as a freelance writer, translator, editor, software developer, and academic. I am also involved in the development of open source software.
In my spare time I read books, write for various online publications, play musical instruments, travel around the world, and generally have a pretty good time. I have hitherto spent a considerable part of my life living outside my homeland, mostly in Denmark and Britain. I was raised trilingual, equally proficient in Icelandic, Danish and English.
Contact Information
Email


Postal address

Provided on request.


Telephone

Icelandic Mobile
(+354) 699-2422

Please use email first unless you know me. I do not take kindly to impromptu phone calls from strangers.


Education
Junior College
Menntaskólinn í Reykjavik (2001)

Icelandic Junior College Diploma (Menntaskólapróf), Modern Languages, w. an emphasis on English, French, German and Latin. 4 years, 1997-2001. Received the Bogi Ólafsson English Award on graduation.
University
Doctoral studies, University of Edinburgh (2008 -- 2010)

I was a PhD research student in intellectual history at the University of Edinburgh for two years. My thesis, which I never completed, was on the role of final causes and teleology in the theories of 17th and 18th-century British Enlightenment philosophers.
I have a wide range of academic interests, amongst them European political, social and intellectual history, political and moral philosophy, the philosophical foundations of the sciences of man, historical methodology, logic, medieval Icelandic history, and modern political, cultural and literary history.
Languages
Icelandic

Skill: Native speaker (mother tongue)
1st language
Roughly 10 years of formal instruction
Junior College Diploma (MR 2001)
Danish

Skill: Native speaker
2nd language - learnt at age 4
Also 7 years of formal instruction
Junior College Diploma (MR 1999)
English

Skill: Native speaker
3rd language - learnt at age 9
Also 8 years of formal instruction
TOEFL: 670/670 (100%) (2005)
SAT: 780/800 (97%) (2001)
Junior College Diploma (MR 2001)
French

Skill: Poor
4th language
4 years of formal instruction
Junior College Diploma (MR 2001)
German

Skill: Poor
5th language
2 years of formal instruction
Junior College Diploma (MR 2001)
Latin

Skill: Very poor indeed
2 years of formal instruction
Junior College Diploma (MR 2000)
I lived in Denmark for approx. 5 years (1984-1989, 2002) and in the United Kingdom for approx. 6 years (1990-1991, 1994-1995, 2006-2010). I speak both Danish and English fluently, in addition to my native Icelandic. Thanks to my knowledge of Danish and Icelandic, and my keen interest in etymology, I can also more or less read and comprehend Old Norse, Faroese, Norwegian and Swedish.
Translation & Editing
I have worked intermittently as a freelance translator and editor since 2005. I undertake translations from Icelandic into English and vice versa, and occasionally edit advanced English texts.
My clients have hitherto mostly been translation agencies such as Robertson Languages and Park IP Translation. My forte is translating Icelandic into English, but I am also a skilled English-to-Icelandic translator and an outstanding editor of English prose.
I mostly translate and edit documents of a technical or commercial nature, but in the past few years I have also translated poetry and prose literature for the Reykjavík Literary Festival. Other clients include the University of Iceland's Science Web and its departments of social sciences and humanities.
For details, see my translation page.
Teaching
Autumn 2008 - Spring 2010: European History I (tutor), University of Edinburgh. In my first two years as a PhD research student, I taught a first-year undergraduate overview course on European history 1500-1989. The material I assembled for this course is still online.
Publications
Articles
"Fortíðin í nútímanum. Ágrip af hugmyndasögu nýfrjálshyggjunnar", Eilífðarvélin: Uppgjör við nýfrjálshyggjuna, ristj. Kolbeinn Stefánsson, Háskólaútgáfan 2010.
Translations
"Auðmúrinn mikli" - a translation into Icelandic of Mike Davis' essay "The Great Wall of Capital" from his In Praise of Barbarians: Essays against Empire (2007), published in Ritið, April 2008.
"Ölkofri's Saga" - translation into English from the Old Norse Ölkofra saga, author unknown. Published in the Icelandic Saga Database, 2008.
Conference papers
(14/03/2009) "The Alliance of Christianity and Mechanistic Philosophy in 17th century England", Journal of the Oxford University Historical Society Colloquium 2009: Odd Alliances in History, Balliol College, Oxford.
Edited
I initiated and am the principal editor of the Icelandic Saga Database project at sagadb.org, a publishing repository for the medieval Sagas of the Icelanders and public domain translations.
Employment history
2015-2016: OS X and iOS software engineer at App Dynamic.
2014: Part-time journalist & web developer at Icelandic newspaper DV.
2013-2014: iOS software developer at OZ.
2012-present: Part-time journalist at the Icelandic non-profit web magazine Lemúrinn.
2011-2013: Software engineer at the startup CLARA. I initally worked in data mining and data parsing, textual analysis and natural language processing, using Python on Unix-based systems. Later, I developed and maintained a client-heavy web application written in Python + JS/jQuery. CLARA was sold to Jive Software for 1bn ISK in 2013.
2011: Founded Corrino Software and released Pizarro for the iPhone.
2010: Contract work for Gogogic game studio. I was lead engineer in the development of the game Symbol6 Redux for iOS.
2008-2010: Tutor at the University of Edinburgh.
2007: Created the Icelandic Saga Database with a grant from the Icelandic Ministry of Education.
2005-2006: Software developer at FRISK Software International (Friðrík Skúlason ehf.). My work mostly involved the development and maintenance of a web-based database-driven transaction system written in Perl and Python.
2005-2010: Freelance translator.
2003-2004: System administrator at Vefsýn hf., a web hosting and development firm. I worked mainly in the administration of Linux and OS X web, database and mail servers, CVS and Subversion repositories, deployment of WebObjects applications.
1998-2002: Various jobs: manual labourer, gardener, hospital clerk, waiter
Computer Skills
Software & Web Development
C
Objective-C
Python
Perl
Shell scripting (bash mostly)
MongoDB, *SQL
Unix programming
Web programming

Server-side web applications
Client-side web applications
CGI, WSGI, mod_perl, Pyramid, and a myriad of other web technologies
JavaScript (esp. jQuery)

Web UI/UX development

Modern HTML and CSS layout
Firm grasp of web standards and latest web technologies
Website performance optimization

API expertise

POSIX C APIs
OS X and iOS APIs (Cocoa)
Cocos2D, OpenGL

Build tools/coding environment

Unix GNU toolchain (gcc, make, etc.)
XCode and the Apple IDE tools
Perl's CPAN, and all that goes with it.
Python Core APIs

Graphics work:

Strictly amateur-level proficiency in the use of Photoshop and Illustrator.
System Administration
Comprehensive knowledge of UNIX-like operating systems, including:

Mac OS X
Linux, esp. Debian & Debian-based distros such as Ubuntu.
UNIX command line interface and environment, esp. bash, tcsh, zsh

Working knowledge of generic computer hardware operation and setup
Apache web server
Mail server administration:

Postfix, CommuniGate, SpamAssassin

Good working knowledge of TCP/IP networking
Version Control Systems

Git, Subversion, CVS (ugh)

Experience with MongoDB, PostgreSQL, MySQL, Sqlite3
My development platform of choice is Mac OS X, but I am comfortable in any half-decent Unix environment. My professional experience is wide and includes back-end database programming, web programming, Unix software development and Mac OS X / iOS programming. I am a fast learner and I can master new languages, APIs and fields of software development quickly.
In general, I would describe myself as a careful and meticulous programmer. I like to think my software speaks for itself. I am equally at ease with object-oriented and procedural programming. I like lean, mean, well-commented code and I hate software bloat.
I am an old-school computer geek, with all that goes with it. My Slashdot User ID is #8688.
Open-Source
I have worked as a pro bono open-source software developer from 2001 to the present day. I am currently involved in the following active open-source projects:
I have also started or become involved in a number of other, currently inactive, open source projects, most of which have justifiably been delegated to history. My most popular piece of software, Platypus has been downloaded over 300 thousand times since it was first released in 2003. Platypus has also been an Editor's Pick in Mac World magazine and was an Apple Staff Pick.
See my GitHub page for further details.
Music
I play the following instruments (in order of proficiency):
Piano / keyboard / organ
Accordion
Guitar
I have flirted with composition over the years, composing the music for the iPhone game Pizarro. I am also sitting on a small portfolio of hitherto unreleased instrumental compositions. I am mostly self-taught musically, and most of all I like playing the blues. I also sing, when sufficiently drunk.
Other hobbies